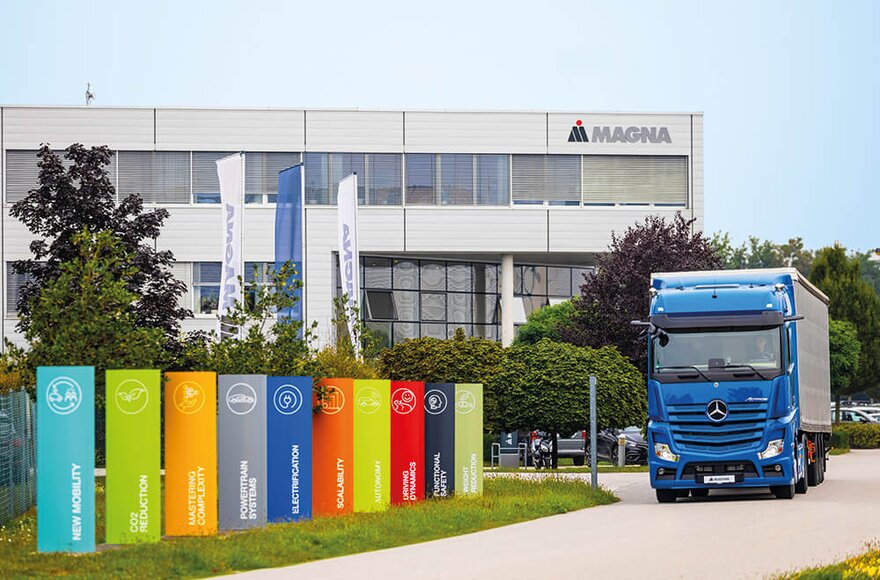 The Engineering Center Steyr GmbH & Co KG (ECS) is part of Magna International, a technology company and one of the world's largest suppliers to the automotive industry. Magna operates in different fields: Body & Chassis – Exteriors – Seating – Powertrain – Electronics – Mechatronics, Mirrors, Lighting – Vehicle Engineering & Manufacturing.
At ECS in St. Valentin we are working in the field of Complete Vehicle Engineering as well as Powertrain Component Development. Our comprehensive testing infrastructure is unique and gives us the opportunity to test components, (and) systems as well as complete vehicles.
Our External Engineering Services organization is an internationally acknowledged partner for automotive customers in the field of commercial vehicles, (and) off-road vehicles as well as passenger cars.
We are a full-service provider and together with our customers, we are working on the vehicles and mobility of the future.
Moreover Sankt Valentin is part of the global acting Magna Powertrain Product Engineering Group for driveline products.
Key focus is the electrified powertrain with the full range of eMotors, inverters, gearboxes and control software engineering for a wide variety of powertrain architectures (P2…P4) for low and high voltage levels.
More on: https://www.magna.com/products/power-vision/electrified-powertrain-technologies​​​​​​​
Magna Powertrain is a premier supplier for the global automotive industry with full capabilities in powertrain design, development, testing and manufacturing. Our innovations contribute to the overall performance of the vehicle, while providing technologies that improve fuel economy, make the vehicle safer, reduce weight and provide value to our global customer base.​​​​​​
​​​​​​​c
​​​​​​​About Magna
Magna is a leading global automotive supplier with 348 manufacturing facilities and 91 product development, engineering and sales centers in 28 countries. We have over 174,000 employees focused on delivering superior value to our customers through innovative processes and World Class Manufacturing. More information about Magna and its division is also available on magna.com
Steyrer Straße 32
4300 St. Valentin, Austria
Tel.: +43 7435 501 0
Email: [email protected]​​​​​​​
Maps and directions
Download (PDF, 41KB)​​​​​​​
Opening hours of our warehouse
Mon - Thu 7:00 am - 3:30 pm
Fri 7:00 am - 2:30 pm
Magna Powertrain
Engineering Center Steyr GmbH & Co KG
WORLDWIDE ENGINEERING LOCATIONS
Austria (St. Valentin)
​​​​​​​Magna Powertrain Engineering Center Steyr
Steyrer Straße 32, 4300 Sankt Valentin, Austria
​​​​​​​Contact person: Hans Peter Zuschrader
+43 7435 501 0 | info.valentin.mpt(at)magna.com​​​​​​​​​​​​​​
engineering.mpt.magna.com​​​​​​​
Portfolio:
Propulsion Engineering
Vehicle Engineering
Simulation Services
Technical Application Software & Support
​​​​​​​​​​​​​​Vehicle Prototyping & Testing
​​​​​​​​​​​​​​ Google Maps ​​​​
India (Pune)
​​​​​​​Magna Engineering Center Pune
1st Floor, Kapil Zenith, Sr.N.55, Hissa No.-1, Bavdhan Khurd, Tal.: Mulashi, Dist.: Pune-411021, India
+91 20 6675 1000​​​​​​​
Portfolio:
Engineering Services
Simulation Services & Software
​​​​​​​​​​​​​
​​​​​​​​​​​​​​ Google Maps ​​​​​​​​​​​​​​​​​​
China (Shanghai)
​​​​​​​Magna PT Powertrain (Shanghai) Co., Ltd
13F,T2,Ever Bright,No398 Huoshan Road,Yangpu District, Shanghai, China
​​​​​​​Contact person: Aisheng Tang
+86 21 80332028 | aisheng.tang(at)magna.com
​​​​​​​
Portfolio:
Sales
Engineering Service Support
Software & Simulation
​​​​​​​​​​​​​​ Google Maps ​​​​​​​​​​​​​​​​​​
Japan (Tokyo)
​​​​​​​Magna Powertrain Office Tokyo
Nihonbashi Plaza Building 6F | 2-3-4 Nihonbashi, Chuo-ku, Tokyo 103-0027, Japan
​​​​​​​Contact person: Noriyuki Muramatsu
+81 (0)3 3548 0310 | noriyuki.muramatsu(at)magna.com​​​​​​​​​​​​​​
Portfolio:
Sales
Engineering Service Support
​​​​​​​Software & Simulation
​​​​​​​​​​​​​​ Google Maps ​​​​​​​​​​​​​​​​​​​​​​​​