PROVING GROUND
​​​​​​​

​​​​​​​
The proving ground in St. Valentin / Austria with its area of 40 ha has an optimal design for the testing of commercial vehicles and passenger cars. It provides a paved road with 850 m, rough roads and up to 7 km unpaved dirt road tracks with varying ascending slopes.
Our deep understanding about the definition of test collectives that reflect the required vehicle durability in real life in connection with the immediate availability of the proving ground, are the key advantages for customers during the development.
Heavy terrain, slopes with gradients up to 60%, a fording basin with a depth up to 1.8 m and special obstacles qualify this test track also for testing of off-road-, construction- or military vehicles. In addition free field- and ISO-noise measurements as well as test stands for cooling measurements are available .
On-Site Proving Ground for Autonomous Driving, Functional & Endurance Testing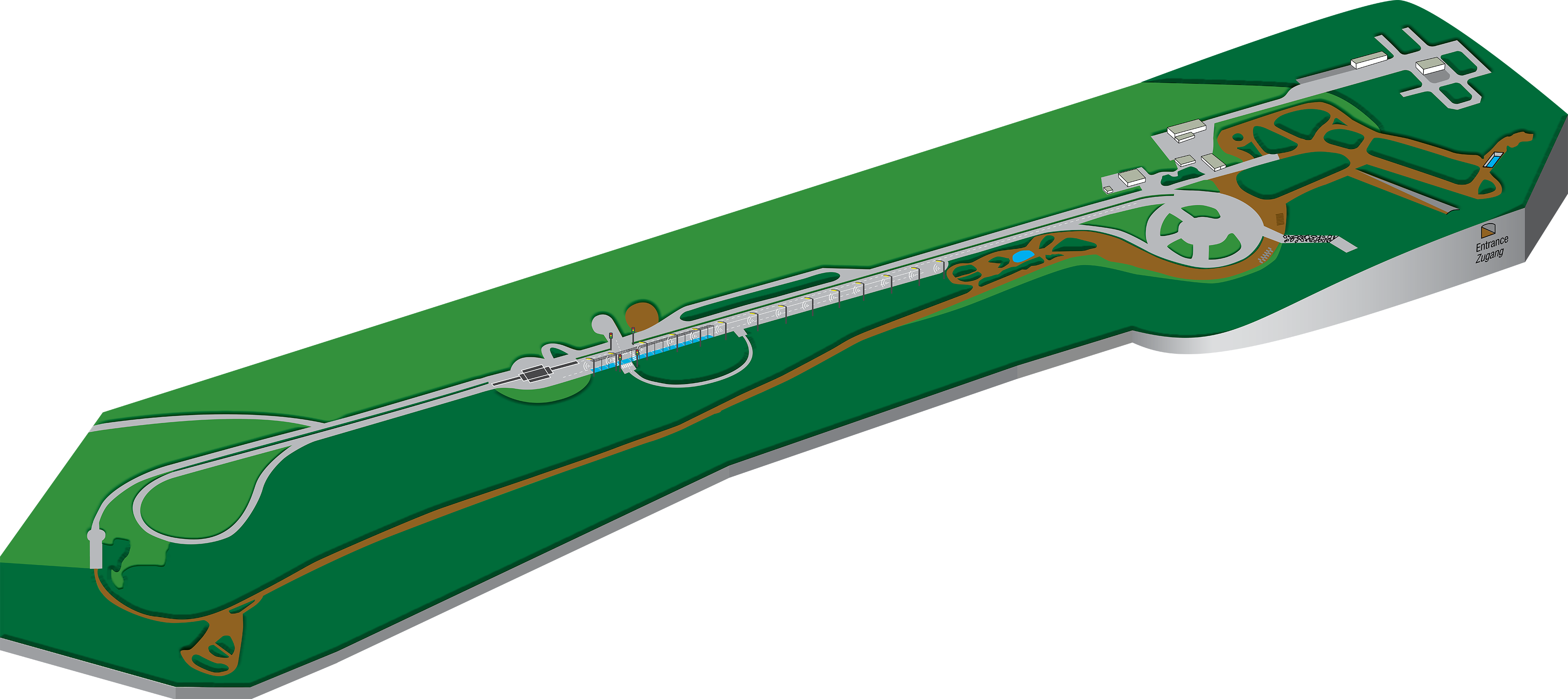 Rain Simulation 100x6m
Testing of Modern and Driverless Vehicle Technologies under Adverse Weather Conditions
Length: 82m x 10,5 m
Natural rain generation
Control of drop distribution, drop size and quantity
U-Turn Intersection
Arch

radius

: 55 m

Controlled

road

intersection

with

4

intersection

arms

(2022) (C-IST, Traffic Light Control)

Uncontrolled

road

intersection

with

3

intersection

arms

Traffic

sign

and

road

surface

marking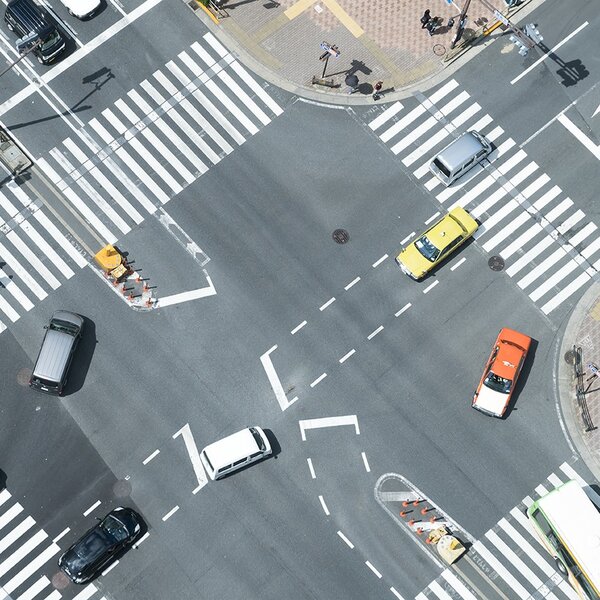 Corner Radius 55m
Arch radius: 55 m
Controlled road intersection with 4 intersection arms (2022)

(C-IST, Traffic Light Control)

Uncontrolled road intersection with 3 intersection arms
Traffic sign and road surface marking
6 Traffic Lanes
350 m x 20,8 m
6 lanes
Highly digitized infrastructure: C-ITS and 5G network coverage
Infrastructure equipment for various ISAD levels
Possible tests

Lane change
Roadway rejuvenation
Merge into trafic
Reeving
Shearing out
Overtake
Highway exit and entrance
Column traffic
Obstacle detection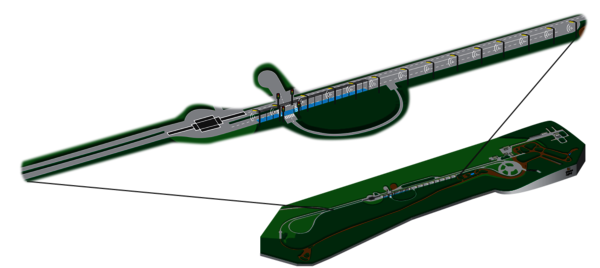 Rough Concrete Road
Fatigue durability
Standard loop: 4,2 km of rough-road, off-road tracks & syntactical obstacles
Customized extension up to 7,2 km possible
Based by long time experience
300 hours lifetime testing for construction trucks & SUV's
500 hourslifetimetesting for off-road trucks, off-road-cars & SUV's
850 hourslifetime testing for off-road trucks & off-road cars (heavy use in the market)
Gravel Pit NE with Slops
Customized drives and mobility trails
Winch and salvage testing with different slopes
Intersection with Traffic Lights
Arch radius: 55 m
Controlled road intersection with 4 intersection arms (C-ITS Traffic Light Control)
Uncontrolled road intersection with 3 intersection arms
Traffic sign and road surface marking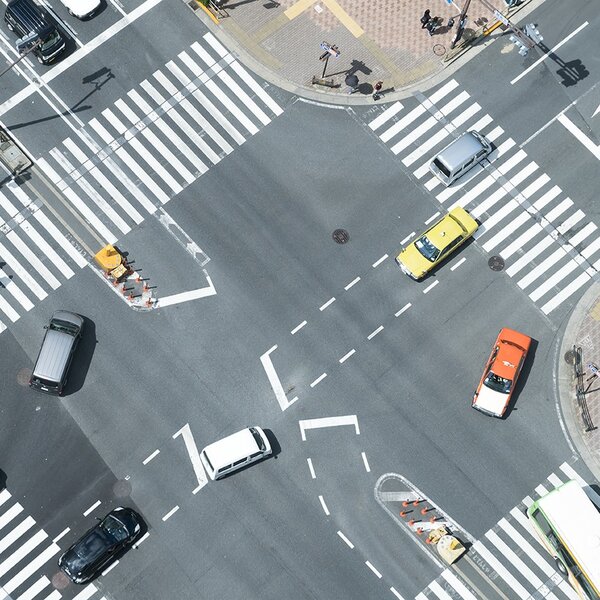 Gravel Pit SW
Customized drives and mobility trails
Winch and salvage testing with different slopes
Outside Noise Surface
DIN ISO 362-1

DIN ISO 10844:2014

Power supply 220V/50Hz
Smart Street Lightning
LED street lights with up to 72 LEDs for extremely wide streets
Length: 320 m on the straight lane
Roundabout cross inside square
Luminous flux: 15.597 lm
Luminous efficiency: 147,1 lm / W
Lighting for EURO NCAP tests
Roundabout with 4 junctions (width 7 m)
Different confluence angles
Inside diameter: 48 m
Two lanes each 5 m
Equipped with 5 State-of-the-art LED Street Lights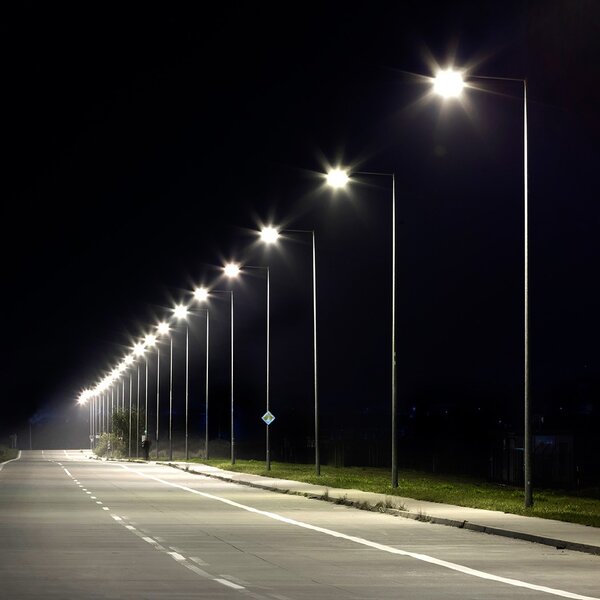 Roundabout
Roundabout with 4 junctions (width 7 m)

Different confluence angles

Inside diameter: 48 m

Outside diameter: 97m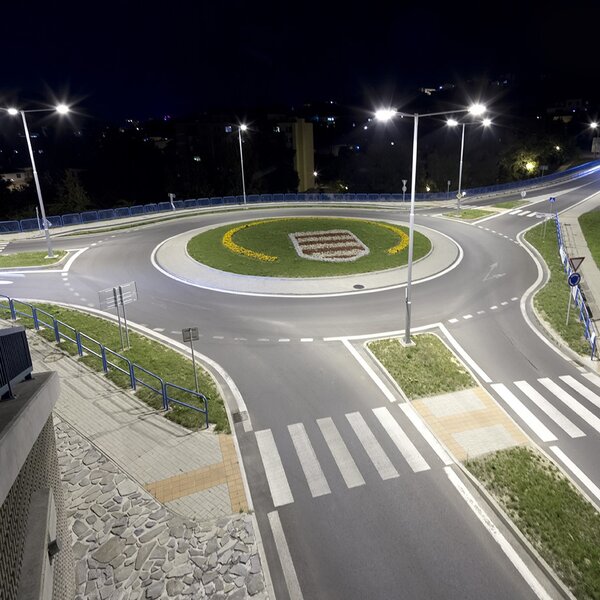 Torsional Obstacles 150mm
150 mm (26 pieces)
Test item
Durability frame, chassis and cab suspension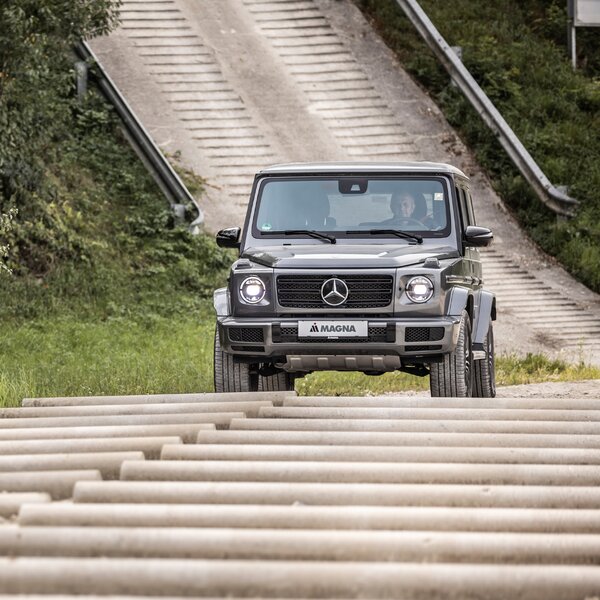 88 m Circuit
Roundabout with 4 junctions (width 7 m)
Different confluence angles
Inside diameter 48 m
Outside diameter 97m
Twist Track
8 cylinders with stepless adjustable heights

4 cylinders up to

800 mm

4 cylinders up to

1200 mm

Maximum axle load

20 t

Maximum

cyl

. force up to

20 t​​​​​​​

Minimum

wheel

base

1450 mm

Minimum inner wheel

distance

1030 mm

Testbad

10.0 m x 3.0 m

Exhaust

suction

system

available

Portable

wheel

load

scales

​​​​​​​
10" and 8" obstacles
Single steel obstacles with 200 mm and 250 mm
Mounted to concrete surface
Axle load up to 16 t
​​​​​​​Test Item
Single maximum load cases
Function test (vertical impact to driver seat)
Concrete Slope 60%
Limited to 10 t axle load

Length 15 m; width 4 m, with side barriers
​​​​​​​​​​​​​​Test item: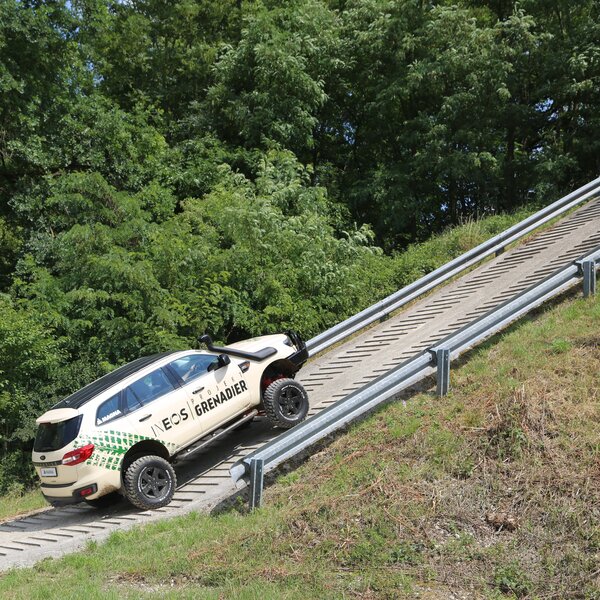 10 Synthetic Pot Holes
10 pothole pairs 3000 mm from pothole to pothole longitudinally
Test item
eCharger
1 ABB mobile charging station 64 A
1 ABB stationary charging station
1 wallbox mobile
2 plugs 32 A
2 plugs 16 A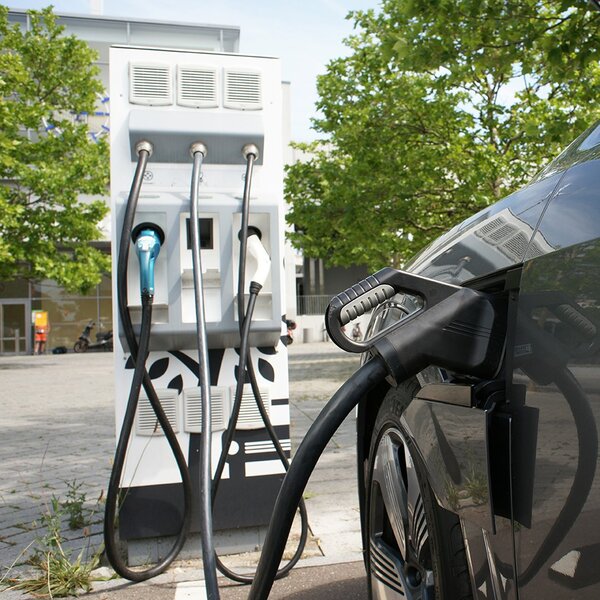 Inspection Building
For inspection over the period of the durability test

Equipped with driver room, meeting room, restroom and a

35 t

inspection ramp
NVH & Thermal Test Bench
Test item
Thermal analyses under static running condition
Agricultural tractor PTO analyses
NVH & drive train vibration
Objects
Trucks
Off-highway vehicles
Agricultural tractors
Construction machines
Spec of test rig
Muddy Track
Realistic environmental impact testing
Leak testing for drivetrain
Concrete Slope 40%
Length 40% 15 m; width 5 m
Test item:
Function of drive train and difflock durability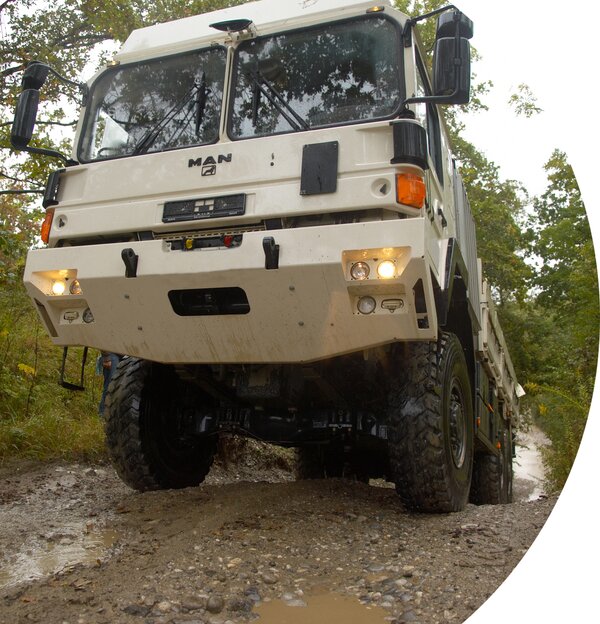 Fording up to 1.8 m (NATO)
Depth variable from 0 – 1800 mm in 200 mm steps
Test items:
Fording function

Internal/external leakage durability for tightness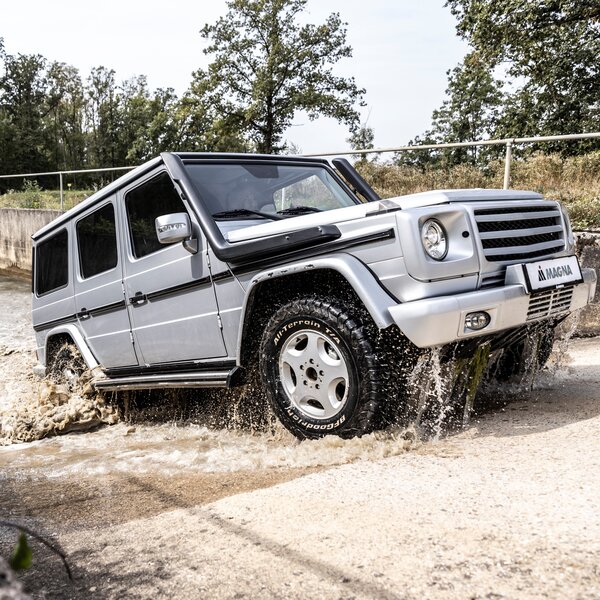 City Zone / Hub Zone
Up to 2700 m² of maneuvering areas and loading and unloading zones
Adjustable ramps
Smart entrance gate
Testing of automated logistics activities
Loading and unloading of trucks and delivery vans

City traffic zone with 250 m network of paths
Simulation of buildings with dummies
Different banquets
Footpaths and bike paths
Floor markings and traffic signs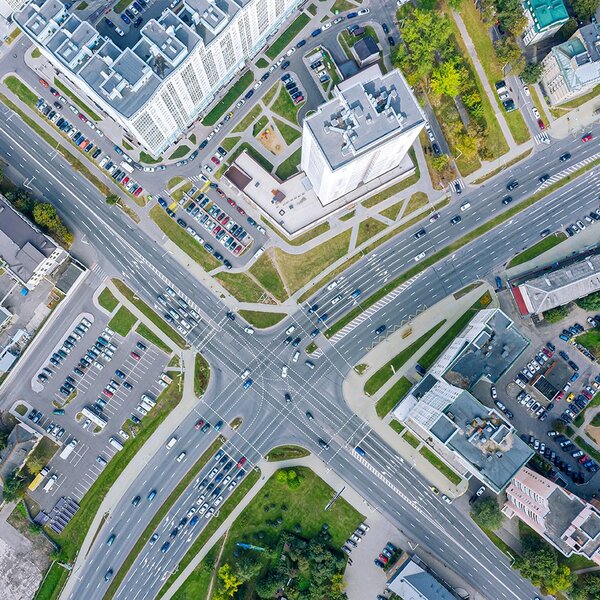 Loading Station / Introduct Loading / Office & Storage
Test items

Thermal analyses under static running condition

Agricultural tractor PTO analyses

NVH & drive train vibration

​​​​​​​

Objects

Trucks

Off-highway vehicles

Agricultural tractors

Construction machines

Spec of test rig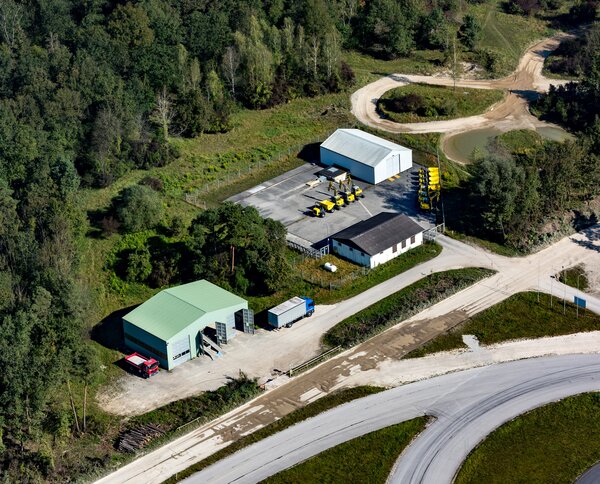 Testing of Modern and Driverless Vehicle Technologies under Adverse Weather Conditions
Length: 82m x 10,5 m
Natural rain generation
Control of drop distribution, drop size and quantity
Arch

radius

: 55 m

Controlled

road

intersection

with

4

intersection

arms

(2022) (C-IST, Traffic Light Control)

Uncontrolled

road

intersection

with

3

intersection

arms

Traffic

sign

and

road

surface

marking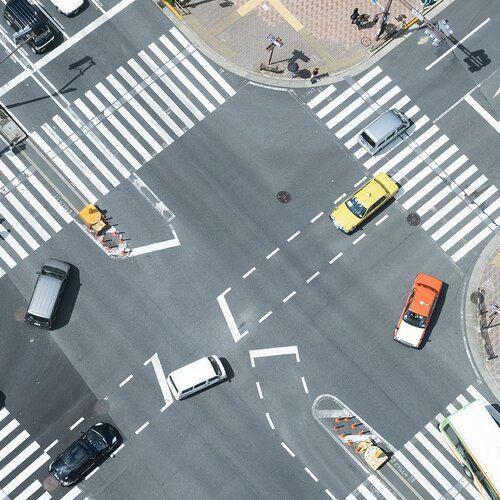 Arch radius: 55 m
Controlled road intersection with 4 intersection arms (2022)

(C-IST, Traffic Light Control)

Uncontrolled road intersection with 3 intersection arms
Traffic sign and road surface marking
350 m x 20,8 m
6 lanes
Highly digitized infrastructure: C-ITS and 5G network coverage
Infrastructure equipment for various ISAD levels
Possible tests

Lane change
Roadway rejuvenation
Merge into trafic
Reeving
Shearing out
Overtake
Highway exit and entrance
Column traffic
Obstacle detection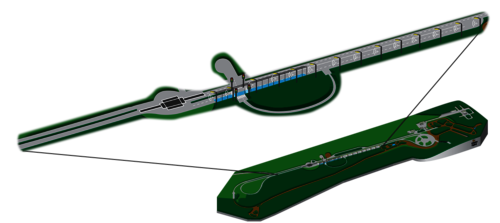 Fatigue durability
Standard loop: 4,2 km of rough-road, off-road tracks & syntactical obstacles
Customized extension up to 7,2 km possible
Based by long time experience
300 hours lifetime testing for construction trucks & SUV's
500 hourslifetimetesting for off-road trucks, off-road-cars & SUV's
850 hourslifetime testing for off-road trucks & off-road cars (heavy use in the market)
Customized drives and mobility trails
Winch and salvage testing with different slopes
Arch radius: 55 m
Controlled road intersection with 4 intersection arms (C-ITS Traffic Light Control)
Uncontrolled road intersection with 3 intersection arms
Traffic sign and road surface marking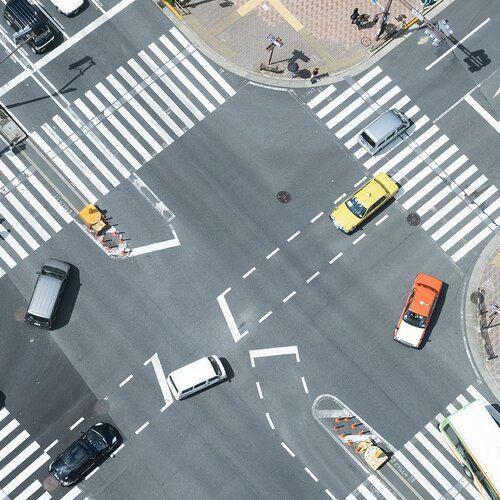 Customized drives and mobility trails
Winch and salvage testing with different slopes
DIN ISO 362-1

DIN ISO 10844:2014

Power supply 220V/50Hz
LED street lights with up to 72 LEDs for extremely wide streets
Length: 320 m on the straight lane
Roundabout cross inside square
Luminous flux: 15.597 lm
Luminous efficiency: 147,1 lm / W
Lighting for EURO NCAP tests
Roundabout with 4 junctions (width 7 m)
Different confluence angles
Inside diameter: 48 m
Two lanes each 5 m
Equipped with 5 State-of-the-art LED Street Lights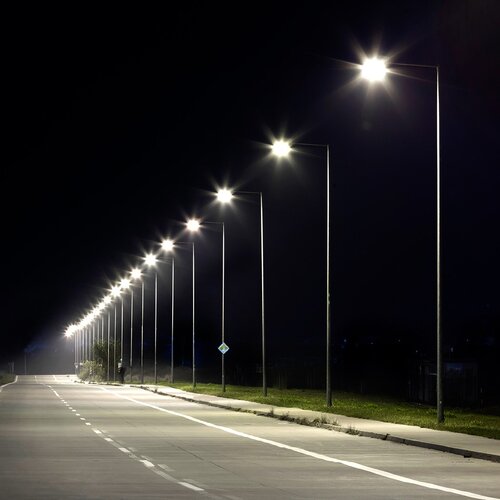 Roundabout with 4 junctions (width 7 m)

Different confluence angles

Inside diameter: 48 m

Outside diameter: 97m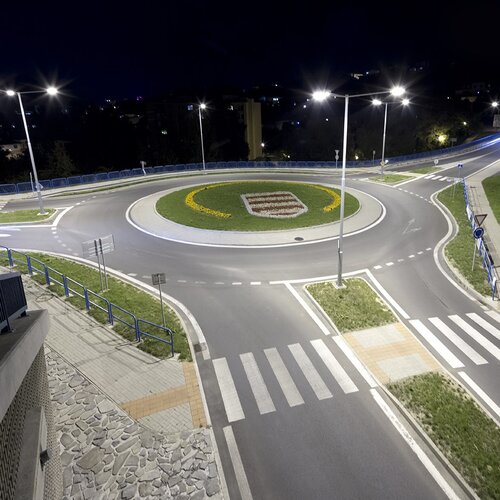 150 mm (26 pieces)
Test item
Durability frame, chassis and cab suspension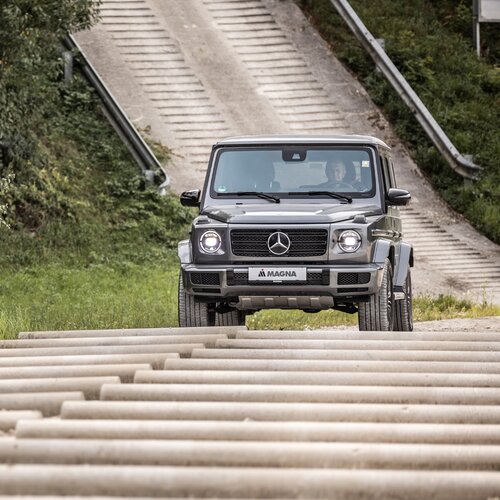 Roundabout with 4 junctions (width 7 m)
Different confluence angles
Inside diameter 48 m
Outside diameter 97m
8 cylinders with stepless adjustable heights

4 cylinders up to

800 mm

4 cylinders up to

1200 mm

Maximum axle load

20 t

Maximum

cyl

. force up to

20 t​​​​​​​

Minimum

wheel

base

1450 mm

Minimum inner wheel

distance

1030 mm

Testbad

10.0 m x 3.0 m

Exhaust

suction

system

available

Portable

wheel

load

scales

​​​​​​​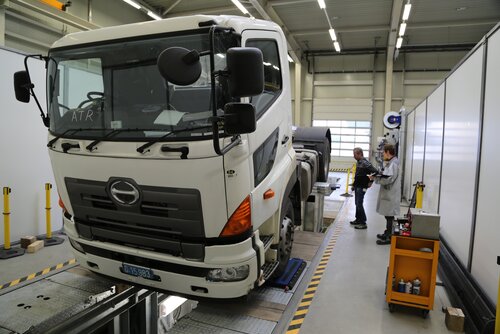 Single steel obstacles with 200 mm and 250 mm
Mounted to concrete surface
Axle load up to 16 t
​​​​​​​Test Item
Single maximum load cases
Function test (vertical impact to driver seat)
Limited to 10 t axle load

Length 15 m; width 4 m, with side barriers
​​​​​​​​​​​​​​Test item: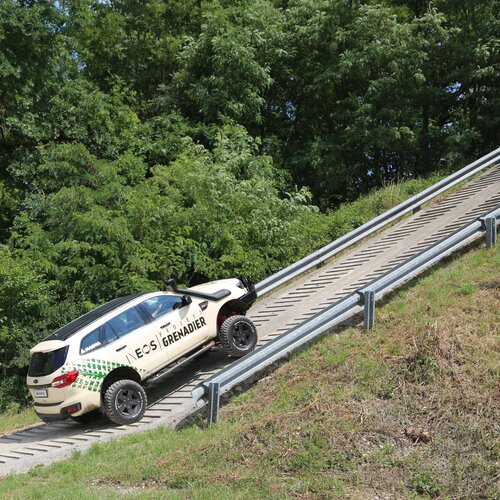 10 pothole pairs 3000 mm from pothole to pothole longitudinally
Test item
1 ABB mobile charging station 64 A
1 ABB stationary charging station
1 wallbox mobile
2 plugs 32 A
2 plugs 16 A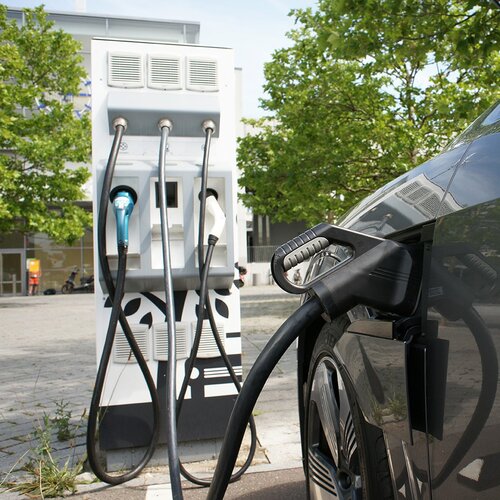 For inspection over the period of the durability test

Equipped with driver room, meeting room, restroom and a

35 t

inspection ramp
Test item
Thermal analyses under static running condition
Agricultural tractor PTO analyses
NVH & drive train vibration
Objects
Trucks
Off-highway vehicles
Agricultural tractors
Construction machines
Spec of test rig
Realistic environmental impact testing
Leak testing for drivetrain
Length 40% 15 m; width 5 m
Test item:
Function of drive train and difflock durability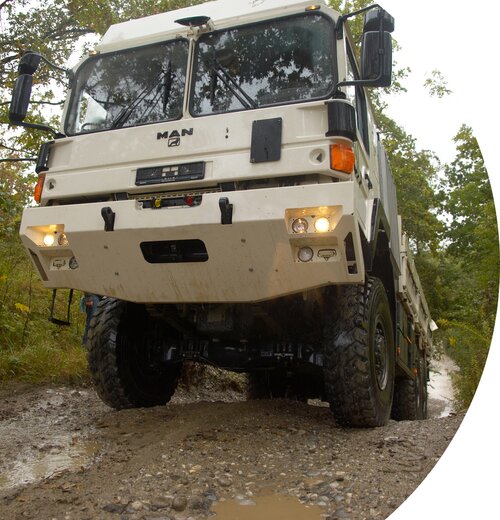 Depth variable from 0 – 1800 mm in 200 mm steps
Test items:
Fording function

Internal/external leakage durability for tightness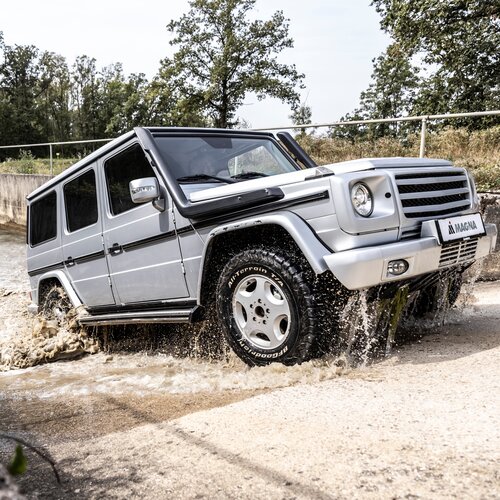 Up to 2700 m² of maneuvering areas and loading and unloading zones
Adjustable ramps
Smart entrance gate
Testing of automated logistics activities
Loading and unloading of trucks and delivery vans

City traffic zone with 250 m network of paths
Simulation of buildings with dummies
Different banquets
Footpaths and bike paths
Floor markings and traffic signs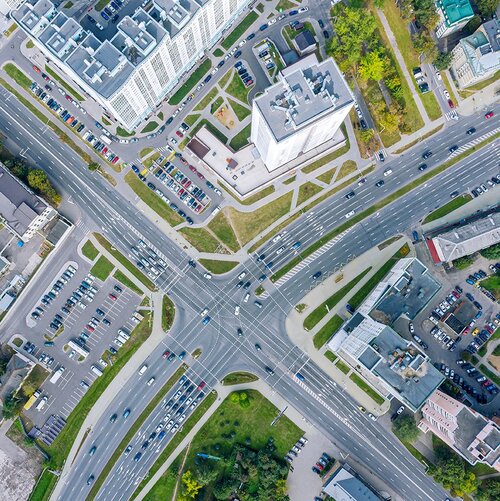 Test items

Thermal analyses under static running condition

Agricultural tractor PTO analyses

NVH & drive train vibration

​​​​​​​

Objects

Trucks

Off-highway vehicles

Agricultural tractors

Construction machines

Spec of test rig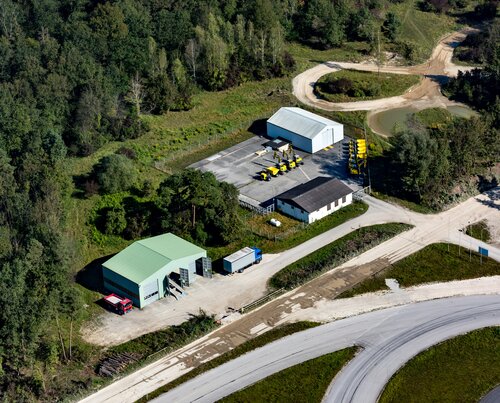 ECS Proving Ground Capabilities
Find more detailed information about our test track capabilities
Durability test for external customers according to existing contracts, validation / verification
Functional tests for internal / external customer
Fatigue durability
Standard loop: 4,2 km of rough-road, off-road tracks & syntactical obstacles
Customized extension up to 7,2 km possible
Based by long time experience
300 hours lifetime testing for construction trucks & SUV's
500 hourslifetimetesting for off-road trucks, off-road-cars & SUV's
850 hourslifetime testing for off-road trucks & off-road cars (heavy use in the Market)
Longitudinal and lateral dynamics for PC and CV (up to 0,3 g lateral acc.)
Pass by noise according ISO
Comfort evaluation
Constant steering
Vehicle functions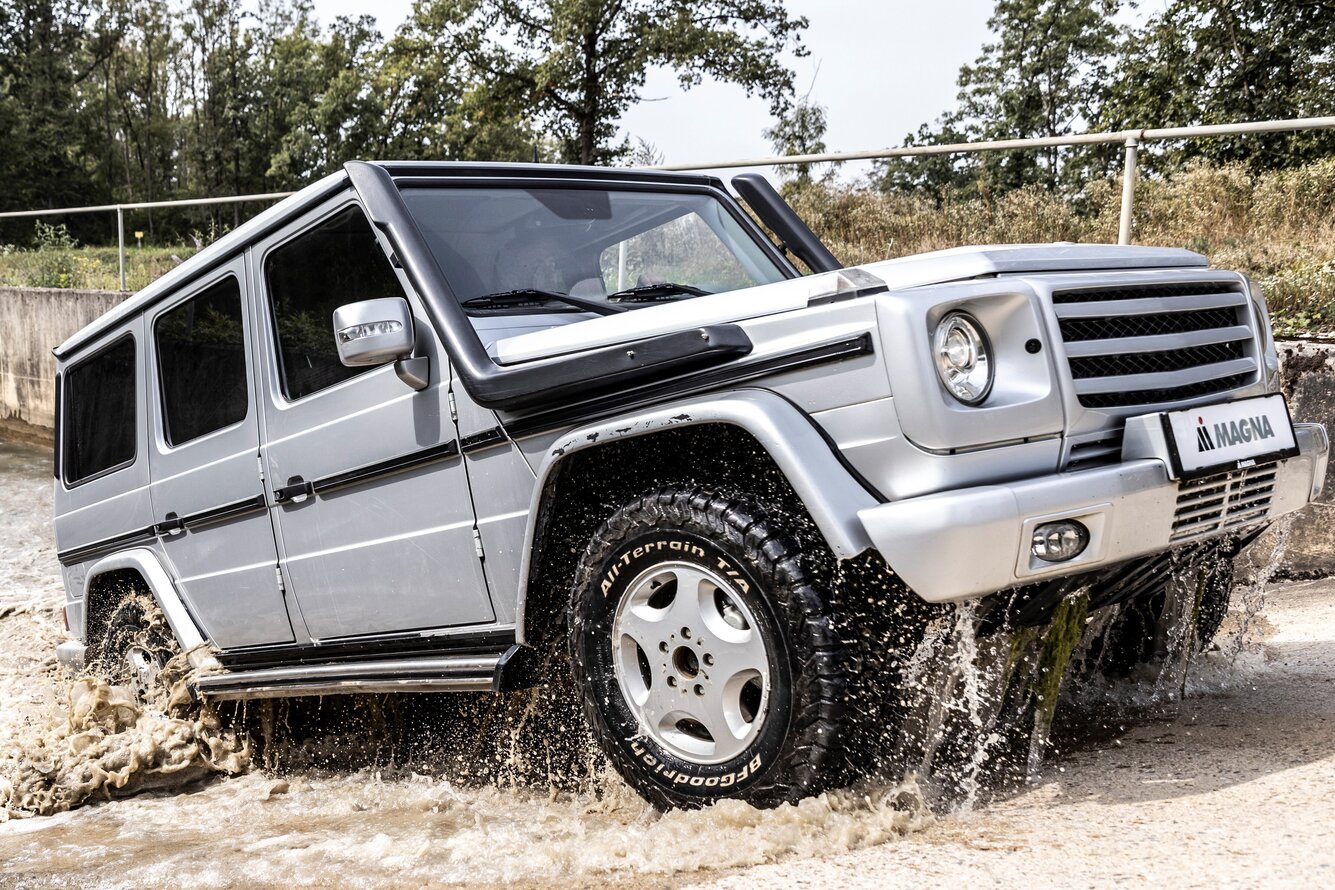 Test items
Thermal analyses under static running condition
Agricultural tractor PTO analyses
NVH & drive train vibration
Objects
Trucks
Off-highway vehicles
Agricultural tractors
Construction machines
Spec of test rig
1.909 Nm
450 kW
5.500 Rpm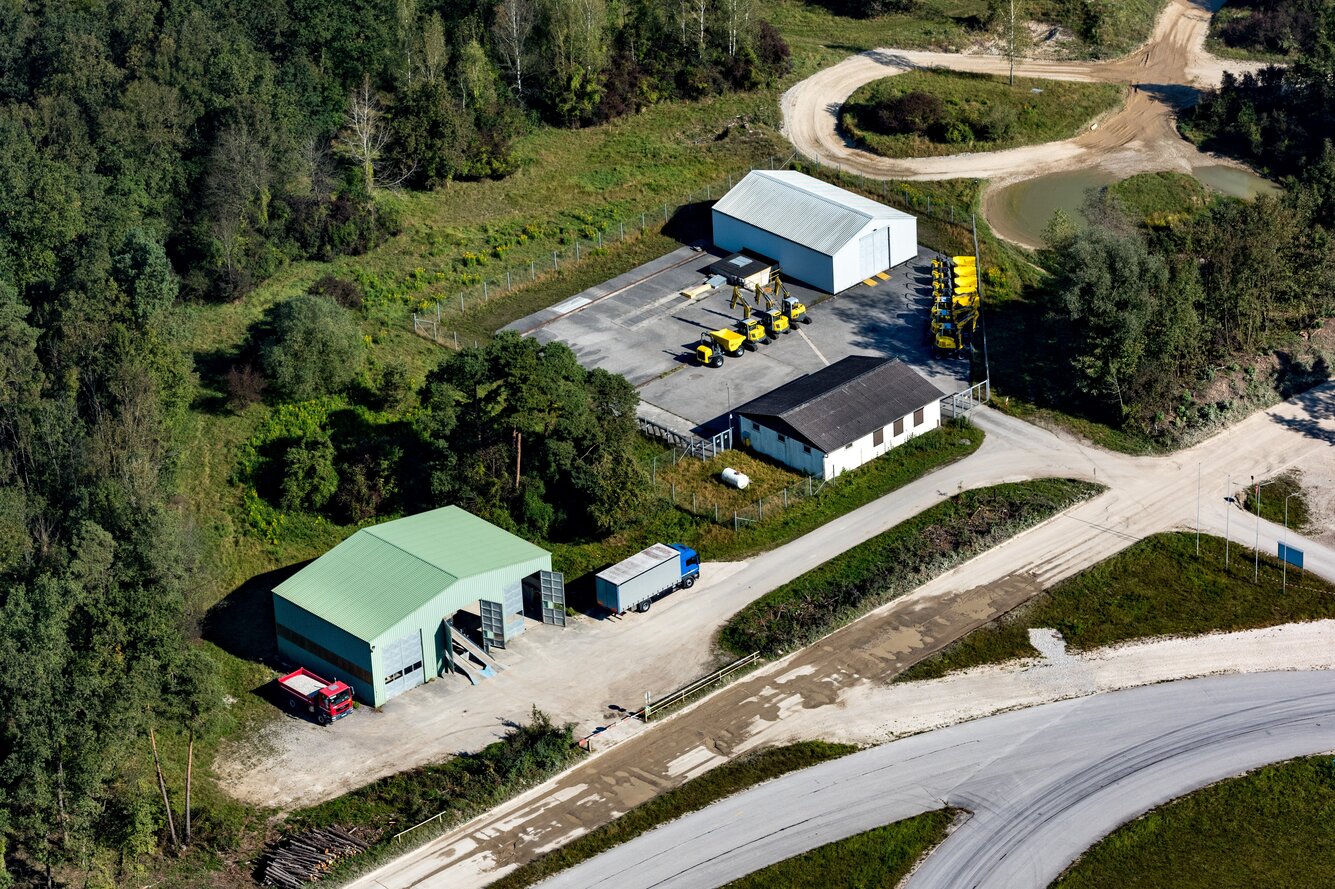 For inspection over the period of the durability test
Equipped with driver room, meeting room, restroom and a 35 t inspection ramp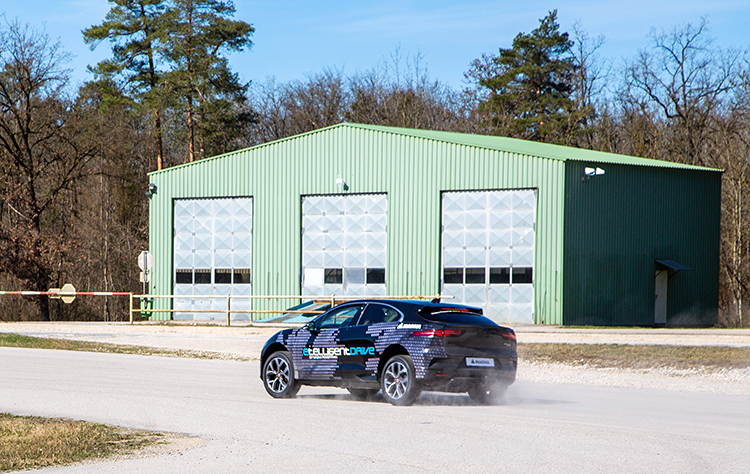 1 ABB mobile charging station 64A
1 ABB stationary charging station
1 wallbox mobile
2 plugs 32A
2 plugs 16A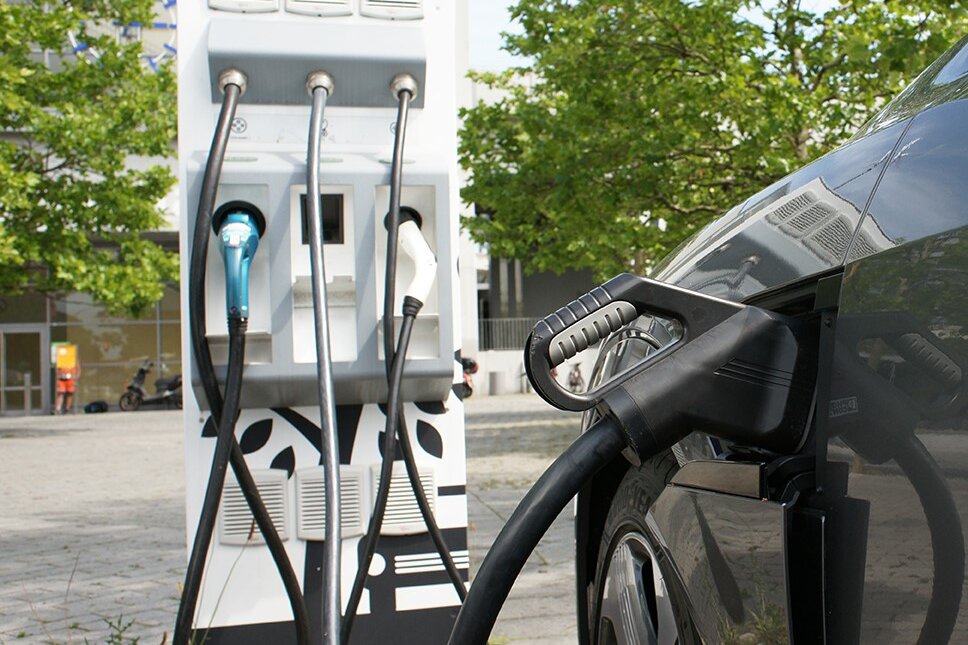 8 cylinders with stepless adjustable heights

4 cylinders up to 800 mm
4 cylinders up to 1200 mm

Maximum axle load 20 t
Maximum cyl. force up to 20 t
Minimum wheelbase 1450 mm
Minimum inner wheel distance 1030 mm
Testbad 10.0 m x 3.0 m
Exhaust suction system available
Portable wheelloadscales