VEHICLE SAFETY
​​​​​

​​​​​​​
Vehicle Safety is probably the most important selling point for all types of vehicles. That`s why vehicle safety is of paramount importance for the whole automotive industry, especially OEMs, their suppliers and engineering service providers.
When it comes to engineering vehicles, vehicle systems or components, our engineers here at Engineering Center Steyr (ECS) are always trying to make them as safe as possible within the framework of laws, standards, customer requirements, timing and costs. To implement safety, we are relying on safety standards, homologation laws, processes and, last but not least, the vast know-how and experience of our engineers and technicians.
Vehicle Safety is Essential in Vehicle Engineering
We are working on safety topics for all types of vehicle, like passenger cars, trucks, busses or agricultural tractors. As well, we are familiar with safety subjects for components like eDrives, chassis, cabins or software.
With the comprehensive development environment amplified by the extensive expertise and experience of our engineers and technicians, we are well prepared to develop your vehicle or system – top safety included!
Design safety, e.g.

Steering system safety (ECE-R 79…)
Brake system safety (ECE-R 13…)
Crash safety (ECE-R 29…)
Hydrogen safety, e.g. for Fuel Cell Vehicles (ECE-R 134…)
High voltage safety, e.g. for Battery Electric (BEVs) or Hybrid Vehicles (ECE-R 100…)
Safety of machinery (ISO 12100…)

Safety at work - truck cabs are workplaces! (directive 2006/42/EC…)
Safety demands required for homologation (regulation (EU) 2018/858…)
Functional safety, for mechatronic and E/E systems and software development (ISO 26262…)
Cyber security, for control unit software and hardware (ISO 21434…)
Safety regarding ADAS (Advanced Driver Assistance System) functions and automated driving / autonomous driving (ISO/PAS 21448…)
Information security, e.g. for immobilizer key management (TISAX)
We start thinking about safety already during planning of a development project, as the work necessary to make a vehicle safe is quite comprehensive and complex. Safety topics generally stretch from the vehicle concept over prototype and series development up to production, service, operation and decommissioning.
For development of safety relevant systems and to guarantee vehicle safety we use the V-process. The V-process is a systematic requirement-driven approach. After implementation / prototype manufacturing, the fulfilment of the requirements is verified at each level.
Consideration of safety and integration of all safety features has to take place as early as possible during development. We are applying numerous methods and processes to identify and assess risks, define detection measures, develop countermeasures, safety mechanisms and safety measures during development.
FMEA (failure mode and effect analysis)
2-stage development process
The V-engineering process
Spice and functional safety processes
Design guidelines
Coding guidelines
Simulation, like FEA (finite element analysis), MBS (multi-body simulation), lubrication simulation, CFD (computational fluid dynamics), 1D-thermal simulation by KULI, electromagnetic simulation, crash simulation, …
Load measurements, derivation of load spectra, maximum loads
Fatigue life / durability analysis
Requirements management
Verification by reviews, inspection, simulation…
HIL testing
Verification testing at our test benches (chassis dyno, fatigue test bench, powertrain and drivetrain test benches, component test benches….)
Automated software tests
Verification and testing at our test track
Guidelines / documentation regarding safe usage, repair, etc. of a vehicle
Measurements, development and testing of ADAS / automated vehicles / autonomous vehicle on our test track with simulated rain, lighting, intersection, city zone also using UFO's (ultra-flat overrunable) robot platform
Our Services for Vehicle and Product Safety Development
A lot of safety requirements have to be considered for vehicle development, they are described by laws, standards, homologation regulations and many more.
Crash safety simulation​​​​​​​ and tests according to ECE-R 29 help to ensure survival space of driver and co-driver in a truck cabin.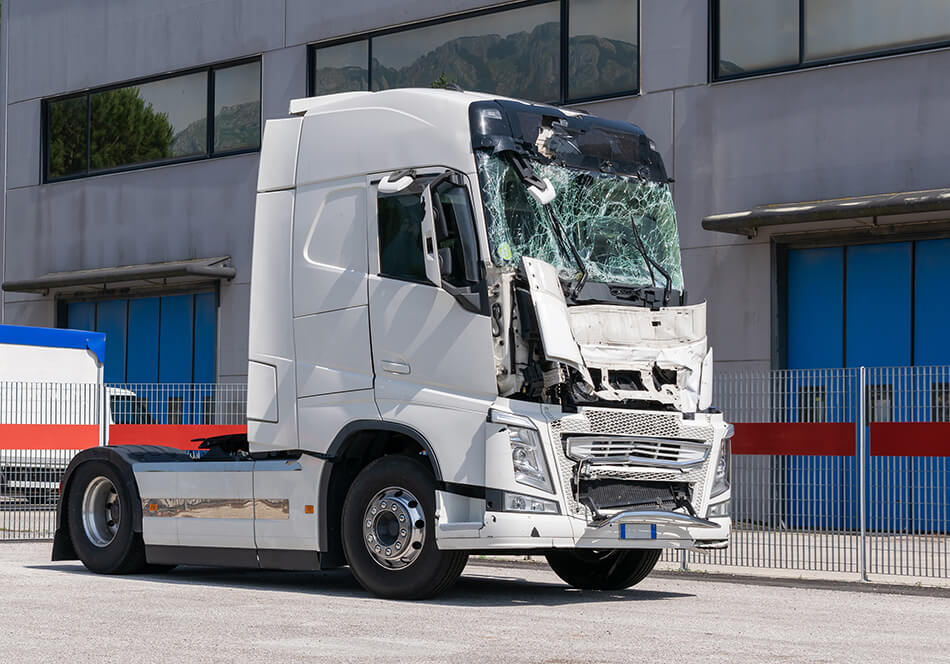 New mobility automated or autonomous driving as well as ADAS functions​​​​​​​ strongly increase the demands to safety. We will assess the new, innovative functions regarding risks and define, implement and validate appropriate safety measures, safety mechanisms and safety rules to be considered.